Airborne Remote Sensing System
Resonon's airborne systems are complete hyperspectral solutions containing all hardware and software necessary to acquire georegistered hyperspectral data. Airborne systems can be mounted on both drones and piloted aerial platforms.
The
Pika L
is our most-popular VNIR spectral regime (400 - 1000 nm) airborne kit, with a payload weight starting at just 1.83 kg (4.0 lbs) and a compact size. The
Pika IR-L
and
Pika IR-L+
NIR imagers (925 - 1700 nm) are high-resolution, compact, and have a payload weight starting at just 2.23 kg (4.9 lbs) making them a great choice for remote sensing in the NIR spectral regime.
The Pika L, Pika IR-L, and Pika IR-L+ can fly on many drones, including the popular DJI M300.
The GPS/IMU contains an RTK receiver for centimeter-scale positioning and increased orientation accuracy. An Emlid RTK Base Station and compatible radio are now available as optional components. Single- and dual-antenna GPS/IMU options are available.
System components:
System Control Unit

Ellipse N GPS/IMU (standard) and g

eorectification software

Radiometric calibration & c

alibration tarp
Spectronon hyperspectral data analysis software
VNIR downwelling irradiance sensor (optional)
Emlid RTK base station and compatible radio (optional)
Dual-antenna Ellipse D GPS/IMU (optional)
Training services (optional)
Resonon's hyperspectral imaging systems are rugged and built to last, and we guarantee their performance. All of our products include a two-year warranty. For details click
here.
Photos of Airborne Hyperspectral Imaging Systems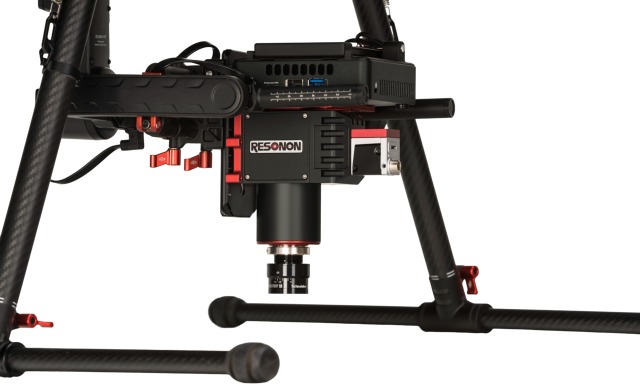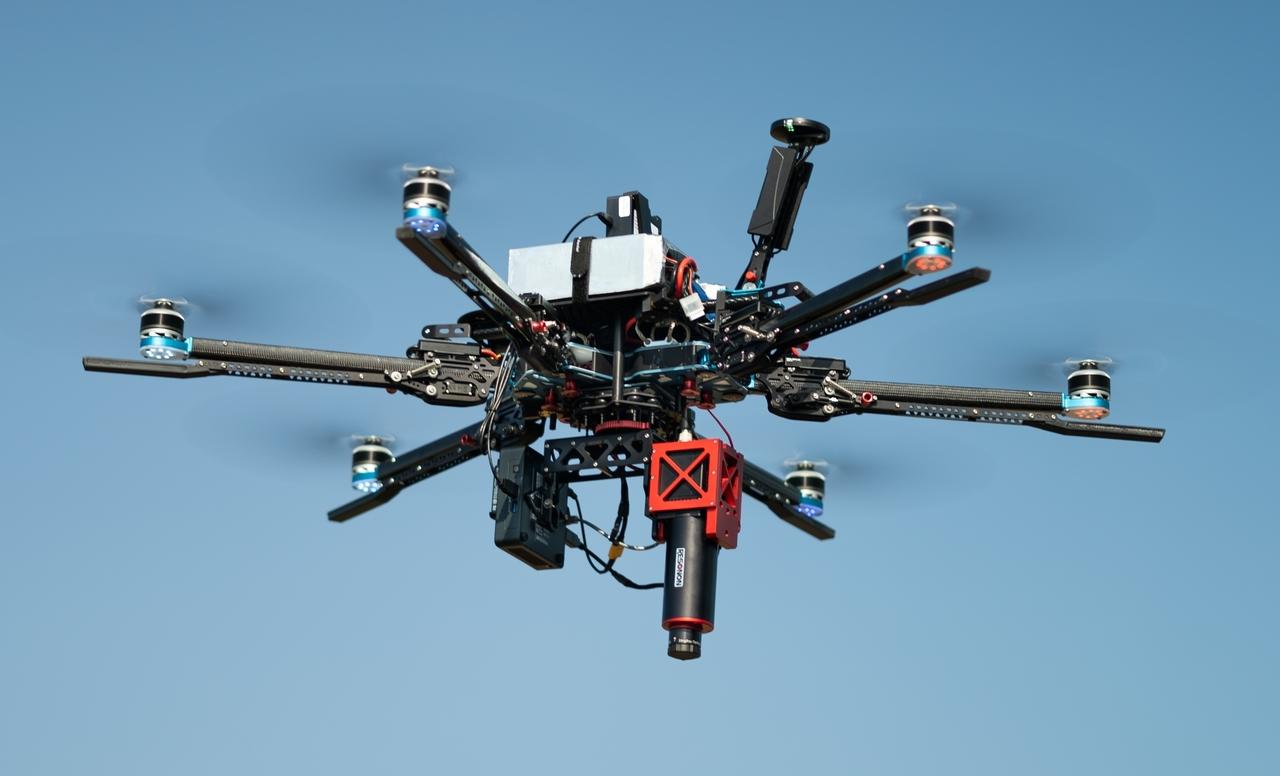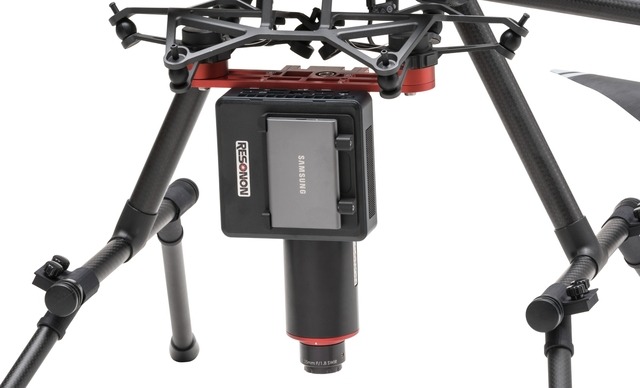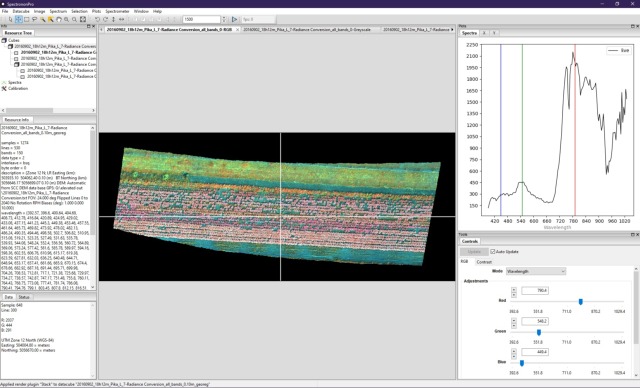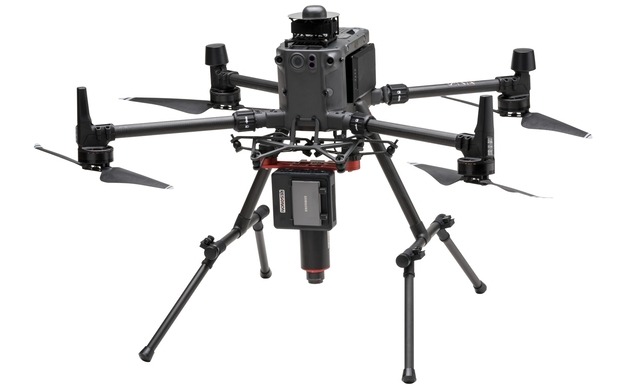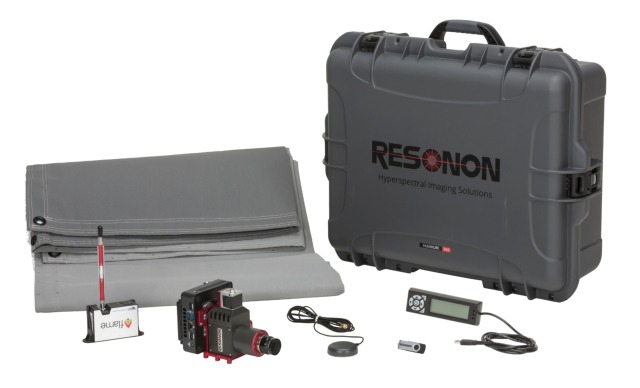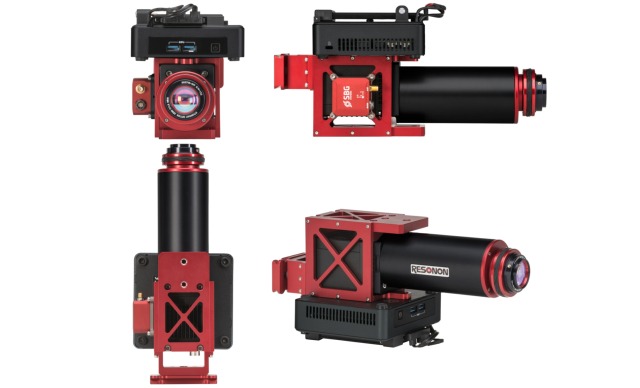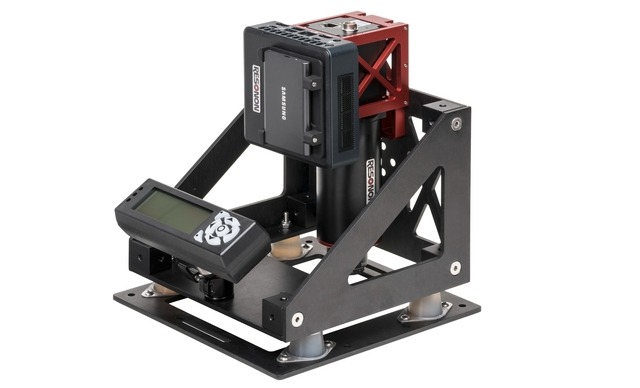 Complete System Weights (starting at)
Pika IR-L/IR-L+
2.23 / 4.91
GPS/IMU Specifications
Standard Configuration
RTK Enabled
Position Accuracy, Horizontal
1.2 m
0.01 m
Position Accuracy, Vertical
1.5 m
0.02 m
Velocity Accuracy, Horizontal
0.05 m/s
0.03 m/s
Velocity Accuracy, Vertical
0.05 m/s
0.03 m/s
Heading
0.2° Dynamic
0.2° Dynamic
RTK components are available as an option
Power Requirements
12 - 19 V; 25 W operating, 55 W peak
Frequently Asked Questions
What are some applications of airborne hyperspectral imaging?
Precision Farming: Crop health monitoring, weed detection, soil health, disease detection, yield predictions, precision pesticide application, plant phenotyping
Environmental Monitoring: Snowpack mapping, water quality, wildfire prediction, river/lake/ocean monitoring, pollution detection
Forestry: Disease detection
Geological and Mineral Exploration: Rock type mapping, mineral and rare earth elements detection
Archaeology: Identification of buried structures, inspection of archaeology sites
Which of Resonon's hyperspectral cameras are best suited for airborne hyperspectral imaging?
All Resonon's hyperspectral cameras can be used in airborne applications, but the Pika L (visible range) and the Pika IR-L and IR-L+ (infrared range) are particularly well-suited for UAVs (also known as drones) due to their compact size and lightweight design.
Do you sell a complete drone plus airborne hyperspectral system package (aka, "turnkey")?
Yes, we offer a Fully-Integrated Airborne Hyperspectral System. Please visit the
product page
to learn more.
Can I use my own UAV (drone) with Resonon's Airborne systems?
Yes, you can use your own UAV, provided it can carry the payload mass of the airborne system you purchase. The system masses are available on the Airborne page (table above). You will need to mount the imager directly or with a gimbal and provide power for the hyperspectral camera and the flight computer.
Resonon has integrated our airborne systems with several different UAVs. We offer a kit for the popular DJI M300/M350 drone. For more information on your specific integration, please contact our
Sales Team
.
Why use hyperspectral imaging instead of multispectral imaging or RGB imaging?
Hyperspectral imaging combines the powerful science of spectroscopy with the context provided by digital cameras. Each pixel of a hyperspectral image contains data for many tens or even hundreds of contiguous spectral channels.
In contrast, RGB images (like the camera in your cell phone) contain data for just 3 channels (red, green, and blue), while multispectral images generally consist of between 4 and 16 spectral channels.
The abundance of data provided by hyperspectral imaging allows your remote sensing system to detect subtle differences between objects, enabling you to "see" things that are invisible to other imaging modes, including the human eye.
What is the maximum flight time? How big of an area can I cover? How fast can I fly?
These questions are all related and the answer to all of them is "it depends".
Several factors must be considered for a given data collection flight, including aircraft flight altitude, aircraft speed, spatial pixels of the hyperspectral camera in use, the objective lens chosen for the hyperspectral camera, and the required ground spatial resolution. Resonon provides software for calculating these parameters and estimating the resolution and area covered.
During UAV data collection flights, the speed is often constrained by the desired framerate and the field of view. The practical upper limit is typically around 5 meters per second. Usually, UAV battery life is shorter than the airborne system hard-drive capacity.
For flights from a crewed aircraft, the framerate is often constrained by the aircraft's speed and altitude.
Can an airborne hyperspectral camera detect [fill in the blank]?
In short, the answer is "it depends".
In more detail, the ability of an airborne hyperspectral camera to detect a specific object depends on several factors, including the spectral signature of the object, the spectral signatures of other objects in the scene, the size of the object you want to detect, the area of the scene you need to scan, and any constraints on flight height, speed, and/or duration during data collection.
How small of an item can I detect with an airborne hyperspectral system?
The spatial resolution of an airborne hyperspectral system determines the smallest item that can be detected. Spatial resolution depends on the field of view of the imager (determined by the objective lens), the distance from the target (related to the aircraft's height above ground level), and the number of spatial pixels in the imager.
For instance, using a Pika L (with 900 spatial pixels) equipped with a 17mm objective lens (providing a 17.6° full field of view) while flying at 100 meters above ground with a framerate that produces square pixels will result in a spatial resolution of approximately 3.5 cm. Resonon offers software that can calculate this resolution, along with other essential parameters for airborne hyperspectral imaging.
How does airborne hyperspectral imaging compare to LiDAR for remote sensing applications?
Airborne hyperspectral imaging and LiDAR are effectively complementary technologies, as their data outputs differ significantly.
Airborne hyperspectral imaging generates a datacube, which is a 3-dimensional image with two spatial axes and a spectral axis. This datacube provides high-resolution spectral data with many tens or hundreds of channels. Although the datacube is 3-dimensional, it does not contain any information about the height of objects in the scene. The spectral data captured provides a map of the spectral signatures recorded in the scene. These spectral signatures allow for identification of all different types of materials and situations (e.g., plant species, insect infestations, crop health, minerals, soil health, etc.) on a per-pixel basis.
In contrast, LiDAR produces a three-dimensional point cloud that maps height of the scanned scene. While the geometry of the scene is captured with high-precision, little to no information about the materials of the objects within the scene is obtained.
How does weather affect airborne hyperspectral data collection?
Generally, it is best to collect data under sunny and calm (low or no wind) conditions.
Precipitation and high winds can ground any aircraft, especially UAVs (drones). The aircraft specifications for your aircraft should list the maximum wind velocity in which the aircraft can safely fly.
Clouds reduce the amount of available light for capturing hyperspectral images, consequently limiting the framerate at which high-quality data can be acquired. This means that you will need to fly slower to capture high-quality data, which will reduce the ground coverage of your survey.
To assess if there is sufficient light at a given framerate, you can utilize the 'Run Auto Expose' feature in the Resonon Ground Station software. For more details on this process, consult the
Auto Expose Settings
section of the
Airborne User Manual
.
What is the lead time for a Resonon Airborne system?
Our lead time for a standard airborne system is typically two weeks. It may vary depending on the specifics of your order but rest assured that we make every effort to deliver your system as quickly as possible.
Which spectral range is best for my application?
The optimal spectral range for your application depends on the specific spectral characteristics of the object(s) you are imaging. Unfortunately, there isn't a convenient reference for spectral signatures of objects.
Our
Sales Team
has extensive experience with hyperspectral data collection and may be able to recommend a suitable spectral range for your application.
On our
Research Publications
page, you can find numerous articles describing hyperspectral imaging of various objects using Resonon hyperspectral cameras.
If feasible, you can send the object you want to detect directly to us at Resonon. We can perform preliminary scans using different cameras and then recommend the spectral range that best suits your application.
Which hyperspectral camera is best for my application?
Similar to the previous question about spectral range choice, the answer largely depends on the spectral features of the object(s) you aim to detect. Additionally, other factors such as required resolution, aircraft payload capacity, and desired flight time will play a role in choosing the optimal hyperspectral camera.
If you contact one of our
Sales Team
members, they will work with you to determine the most suitable Resonon hyperspectral camera for your specific application.
Can I see the airborne hyperspectral data in real-time?
No, you cannot view the hyperspectral data in true real-time. If flying on a UAV, the collected data is only accessible for review after the UAV has landed and you can connect to the Airborne system hard drive with a computer.
If flying on a crewed aircraft, it is possible to stop the data collection and access the hard drive for data review, if there is a person onboard with access to the hard drive and a laptop. But, even then, data collection must stop while one is transferring the data from the hard drive to a laptop.
Does a Resonon Airborne system require the use of a gimbal?
In general, a gimbal is not required. Resonon provides direct mount options for integration with most UAVs, and some UAVs come equipped with payload vibration isolators. For crewed aircraft, Resonon offers a mount with built-in vibration isolation to integrate the airborne system with the aircraft.
While a properly configured gimbal will theoretically enhance the quality of the collected data, it does introduce complexity to the setup and flight process, as well as added mass, which reduces flight time and limits which aircraft can carry the system.
If you are unsure whether a gimbal is necessary for your airborne application, please contact one of our
Sales Team
members who can assess your specific requirements and provide a recommendation.
Which gimbals are compatible with a Resonon Airborne system?
Any gimbal that can securely mount and balance the Airborne system while remaining within the aircraft's payload capacity should be suitable.
Yes, Resonon offers in-person training, either at Resonon (located in Bozeman, Montana) or at your facility.
Please note that Resonon does not offer training for piloting, operating, or maintaining crewed or uncrewed aircraft. However, if you choose to purchase the
Fully-Integrated Airborne Hyperspectral System
, you can opt for combined training, which covers both the hyperspectral system (by Resonon) and UAV operation (by Vision Aerial) in a single session.
Contact Us
Click below and our hyperspectral experts will contact you soon.
Complete Hyperspectral Imaging Solutions
Contact
Resonon Inc.
123 Commercial Drive
Bozeman, MT 59715 USA
Follow