Hyperspectral Software
Acquire and analyze hyperspectral data
Spectronon
Spectronon, our hyperspectral analysis software, is available for free download. We believe free access to our hyperspectral software will contribute to developing hyperspectral imaging as an essential tool for science, engineering, and industry.
SpectrononPro has all the capabilities of Spectronon, and also includes controls for Resonon's hyperspectral cameras and stages.
Spectronon Features
Data acquisition
Controls Resonon hyperspectral imaging cameras and stages

Corrects for dark noise, illumination, and sensor response

Outputs in standard formats (.bil, .bip, .bsq)
Hyperspectral classification (Support Vector Machines, Logistic Regression, and many others)

Hyperspectral Vegetation Indices

Multiple utilities (smoothing, cropping, ROI, etc.)
Supports user-written plugins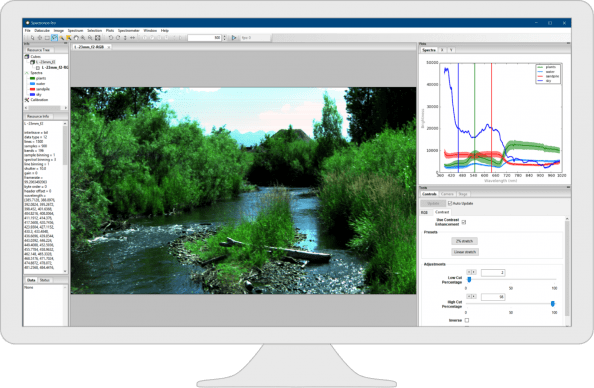 Airborne Remote Sensing Software
Resonon's airborne remote sensing software operates the airborne system during flight and provides post-processing tools for radiance correction and georectification.
Before flight, the user configures the basic system parameters and region-of-interest. During flight t
he airborne software autonomously controls the hyperspectral imager, GPS/IMU, and downwelling sensor (if used). After flight the raw data is converted to radiance or reflectance, and then georectified.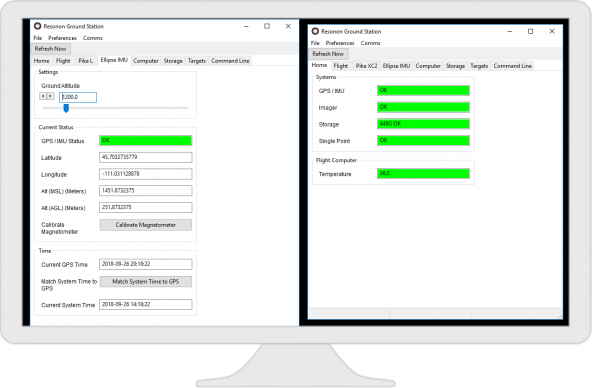 Machine Vision Software
Resonon's machine vision software combines hyperspectral data with advanced machine learning algorithms to detect small differences in similarly colored materials, and identify different materials.
The software is easy to use and provides real-time commands to downstream robots, air jets, and other actuators.
Software Development Kit (SDK)
A
C++
SDK is available for direct control of Resonon's hyperspectral imaging cameras.
The SDK allows a user to integrate a Resonon hyperspectral camera directly into their custom system.
Contact Us
Click below for additional information.
High-precision hyperspectral imaging systems for research and industrial applications.
Contact
Resonon Inc.
123 Commercial Drive
Bozeman, MT 59715 USA
Follow

© 2019 Resonon Inc.