Outdoor Field System
Portable hyperspectral imaging system
The tripod-based hyperspectral imaging system is used to acquire outdoor measurements. A Resonon pushbroom hyperspectral camera is mounted on a rotation stage which sits on a specially modified tripod. During data acquisition, the stage rotates the hyperspectral camera, scanning the scene of interest. The imager and stage are controlled using
Spectronon
software.
Data is provided in raw format and also in radiance. Correcting for imager response is performed using radiometric calibration data, obtained by Resonon in our lab prior to shipment.
A special calibration tarp is provided to correct the data for illumination effects. The tarp is a special material with a known (mostly flat) reflectance across the entire spectra.
Resonon's systems are turnkey solutions ready for immediate use, including all hardware and software necessary to acquire and analyze hyperspectral data.
System components:
Tripod with laptop tray

Spectronon software preloaded onto ruggedized laptop computer

Power supply
Calibration tarp

Radiometric calibration
Photos of Outdoor Field System
Portable hyperspectral imaging system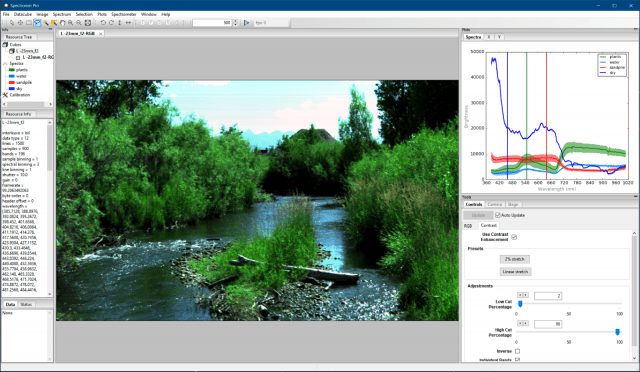 Specifications
Rotation stage speed range
0.28 - 56.25 deg/s
Power requirements
12V, 2A
Contact Us
Click below for additional information.
High-precision hyperspectral imaging systems for research and industrial applications.
Contact
Resonon Inc.
123 Commercial Drive
Bozeman, MT 59715 USA
Follow

© 2020 Resonon Inc.