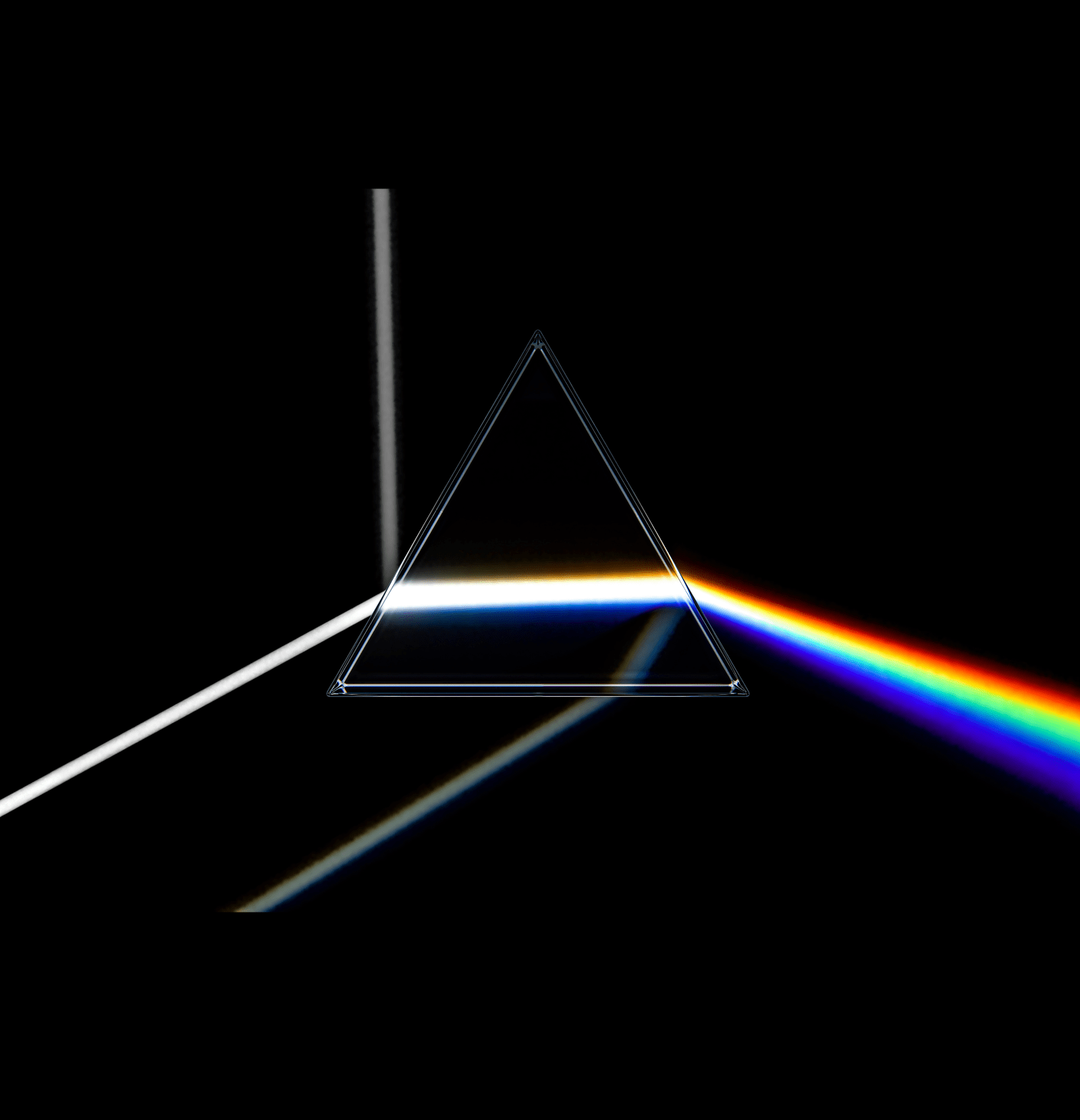 Hyperspectral Applications
See the unseen
Resonon hyperspectral imaging systems are used in research and industrial applications worldwide. Below are a few examples of Resonon hyperspectral cameras in action.

The most common applications of hyperspectral imaging are related to the study of plants growing on the surface of the Earth. Agriculture is the most studied topic, wth much research focusing on correlating reflectance spectral features to early detection of crop stress, nutrient deficiencies, noxious weed detection, yeild prediction, and seed viability. These studies often combine laboratory and remote sensing measurements. Forestry and forest health are also topics where hyperspectral imaging is becoming a common research tool.
Hyperspectral imaging is popular with the ocean and water sciences community. Detecting and identifying Harmful Algae Blooms (HAB's) is a critical issue worldwide, especially when blooms occur near municipal water intakes. In food science, hyperspectral imaging is being used to determine ripeness and sugar content of fruits and vegetables, as well as detecting defects and contaminants on fruits, vegetables, meat, poultry, and processed foods.
Hyperspectral imaging is being used in many other fields as well, as well as industrial and commercial enterprises. The combination of spectroscopy and imaging is very powerful, capable of seeing things the human eye and standard cameras cannot. Currently, humans are still in the early stages of adopting and fully utilizing this technology, with much work still to be done. However, the future of hyperspectral imaging appears bright.
Remote Sensing
Precision Agriculture
Environmental Monitoring
Biotechnology
Food Analysis
Machine Vision
Remote Sensing
Resonon hyperspectral imaging cameras are used in air, space, and underwater vehicles to capture detailed spectral data for a wide range of uses.
Application Example
NASA ARCSTONE
Resonon has partnered with NASA on the ARCSTONE project to design and build custom hyperspectral instruments for lunar reflectance calibration. Currently preparing for ground test, ARCSTONE will eventually enable the Moon to be used as an accurate calibration source for earth-viewing satellite instruments.

Details can be found here.
Precision Agriculture
Hyperspectral imaging e
nables identification of weeds, monitoring of plant health, and evaluation of ripeness. Early detection of crop stress is a common application.
Application Example
Invasive Weed Mapping
A Resonon airborne hyperspectral imaging system was used to identify and locate an invasive weed infestation.
Application Example
Ladybird Agriculture Robot
The Ladybird precision agriculture robot, developed at the University of Sydney, uses a Resonon hyperspectral imaging camera, in addition to other sensors, to autonomously map, classify, and detect problems in vegetable crops.

Click here for more information.
Application Example
Yield estimation in wheat
Hyperspectral remote sensing was used to help predict yield in wheat as a function of fertilizer concentration. LAI and chlorophyll were measured for 24 plots using 8 nitrogen treatments.


Special thanks to the authors and the following institutions for sharing this research:

* University of Osnabrück




* Martin Luther University Halle-Wittenberg




* Osnabrück University of Applied Sciences




Environmental Monitoring
Hyperspectral imaging is used to track forest health, water quality, and surface contamination.
Application Example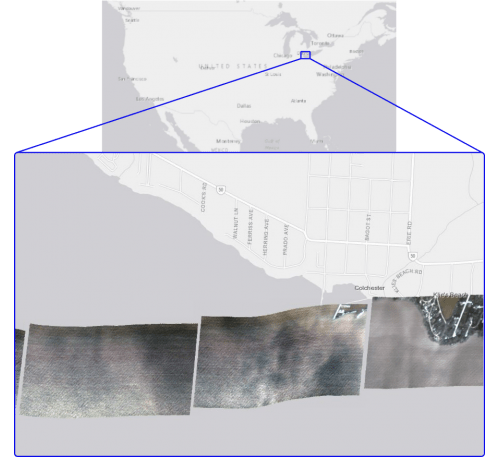 Hyperspectral Imaging of Algae Blooms in Lake Erie
NOAA GLERL and the University of Michigan's Cooperative Institute for Great Lakes Research fly weekly airborne campaigns with a Resonon hyperspectral imaging system to track and understand the spread of harmful algal blooms in western Lake Erie.

View the true-color imagery data archives here.
Application Example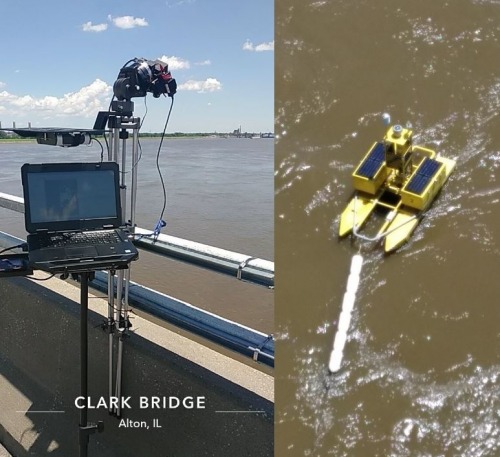 Hyperspectral Imaging of Contaminated River Water
In-situ measurements of the Mississippi River Watershed were used to detect nitrates, phosphates, and sediments.
Food Analysis
Resonon's hyperspectral imaging systems are used in food research and industry to identify defects, characterize product quality, and locate contaminants.
Application Example
Nut Sorting
Hyperspectral imaging enables robotic sorting of nuts from shells and other foreign material, a job traditionally accomplished via manual sorting.

The image of walnuts shows the classification of the walnut meat (green) and shell (orange) components.
Application Example
Cooked Food
Subtle color changes associated with food quality can readily be identified using hyperspectral imaging.

The image of chicken nuggets shows the classification: missing breading (red), crispy (green), and appropriately-cooked (blue).
Machine Vision
Resonon's hyperspectral machine vision systems detect small differences in similarly colored materials that cannot be distinguished with conventional imaging technologies.
Application Example
Pharmaceuticals
Hyperspectral infrared imagers can identify counterfeits, find defects, and eliminate prescription errors.



The image shows three types of white pills, indistinguishable by color to the human eye, but accurately classified via Resonon near-infrared hyperspectral machine vision.
Application Example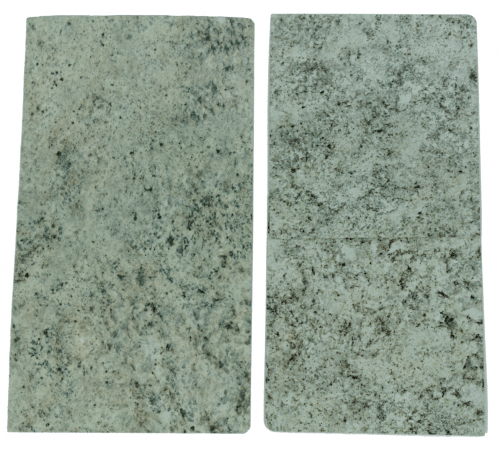 Identifying Finished Goods
A major manufacturer of laminates uses Resonon machine vision systems at multiple facilities to identify over 30,000 products daily from a library of several thousand.

The image shows two nearly-identical products that are accurately differentiated using Resonon machine vision.
Contact Us
Click below for additional information.
High-precision hyperspectral imaging systems for research and industrial applications.
Contact
Resonon Inc.
123 Commercial Drive
Bozeman, MT 59715 USA
Follow

© 2019 Resonon Inc.